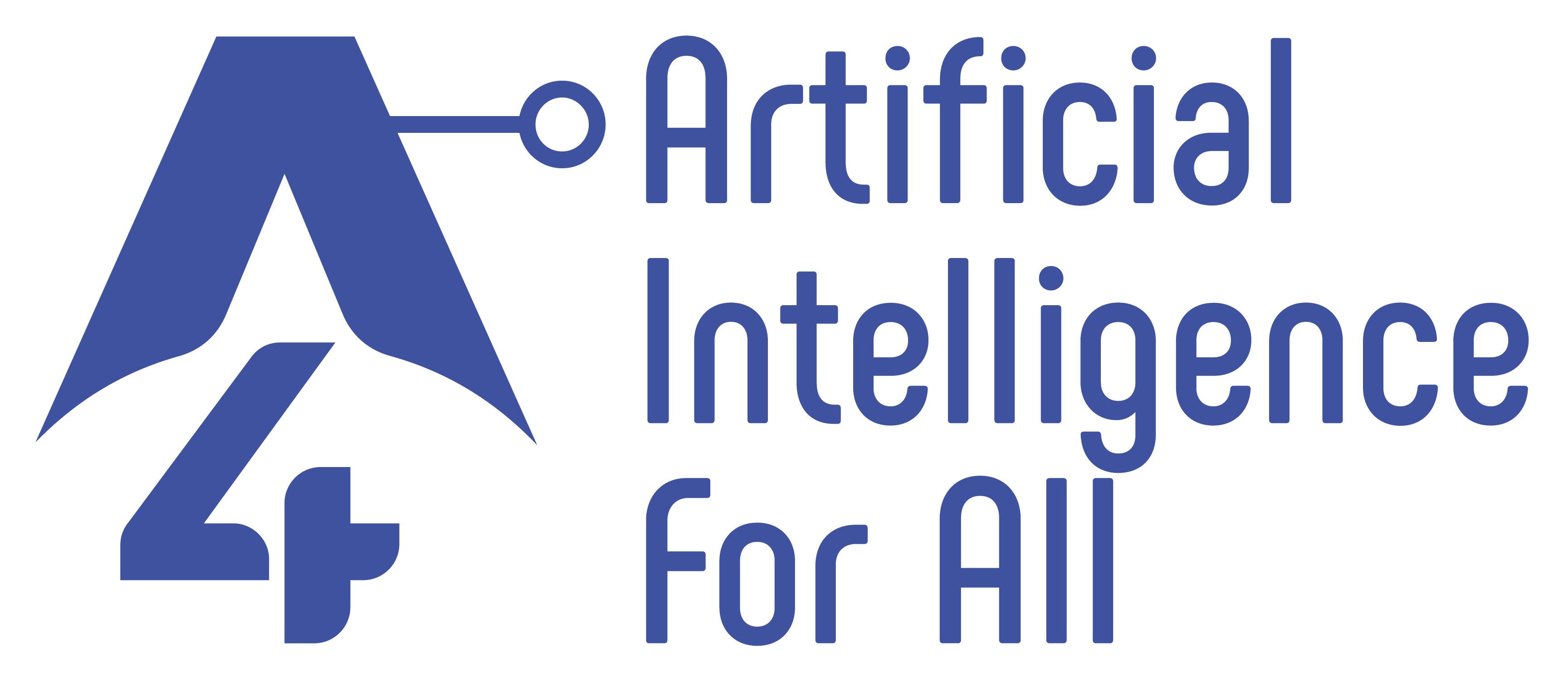 AI4all - Artificial Intelligence for all / Inteligencia Artificial para todos
Descripción del proyecto
El proyecto explota la inteligencia artificial y promoverá el desarrollo y la adquisición de competencias digitales, construyendo módulos de aprendizaje a medida según las necesidades de los formadores, los alumnos y los trabajadores de las PYME y FP y los requisitos del mercado laboral. En este contexto el objetivo general de
AI4ALL
es la definición de dos prácticas innovadoras:
 Una práctica innovadora de análisis basado en la Inteligencia Artificial y el análisis de los resultados de las autoevaluaciones de las competencias digitales básicas, en la que la inteligencia artificial ayudará a los operadores del sector de la FP en la definición de cursos de formación individual altamente personalizada.
Una práctica de colaboración a nivel europeo para la formación continua en Inteligencia Artificial y para la recogida de los datos necesarios para ello. Los formadores de trabajadores de PYMES y formadores en programas de FP con bajas competencias digitales se beneficiarán indirectamente de los cursos de formación personalizados.
The project exploiting the artificial intelligence will promote the development and acquisition of digital skills, building tailor-made learning paths according to the needs of trainers, learners and SMEs workers in C-VET and labour market requirements. In this context, the general objective of AI4ALLL is the definition of two innovative practices:
An innovative practice of AI-assisted analysis of the results of basic digital skills self-assessments, where the AI4ALL AI will help operators in C-VET education sector in the definition of highly personalized individual training courses;
A collaborative practice at European level for the continuous training of the AI4ALL AI and for the collection of the data required for this purpose. AI4ALL will train 320 C-VET educators. 25 will be trained during the pilot edition, and during the first public campaign. Over 4,000 trainers among workers of SMEs and trainers in C-VET paths with low digital skills will indirectly benefit from personalized training courses, defined during the AI training process.
Público objetivo
El proyecto responderá a las necesidades de:
Los socios que desarrollarán un primer nivel de conocimiento de la naturaleza y los efectos de la transformación del proceso de aprendizaje causados por la llegada de la Inteligencia Artificial que se difundirá entre los socios del proyecto, así como los procedimientos para la adquisición de datos útiles para la formación en Inteligencia Artificial en los programas de FP, a partir de la autoevaluación de las competencias digitales básicas.
Educadores y formadores que integran en el proceso de enseñanza métodos y herramientas basadas en el uso de la IA.
Alumnos que quieran conocer métodos de aprendizaje a medida para mejorar sus competencias digitales.
The project will meet the needs of:
Partner organization to develop a first level of awareness of the nature and effects of the transformations in the learning processes caused by the advent of AI technologies spreads in the project's partners and the procedures for acquiring data useful for training AI to support C-VET are defined, starting with the self-assessment of basic digital skills;
Educators and trainers of integrating methods and tools based on the use of AI in the teaching process;
Learners to find tailor-made learning paths to improve digital skills.
Resultados
Los resultados producidos por el proyecto son:
R1: un Kit de herramientas de formación en Inteligencia Artificial para evaluar las habilidades digitales básicas de los trabajadores y alumnos de FP y responder al primer objetivo del proyecto además de apoyar el proceso de autoevaluación de las habilidades digitales básicas de los alumnos de FP.
R2: El curso de autoformación sobre la evaluación a través de la Inteligencia Artificial de las habilidades digitales básicas de los trabajadores de las PYME y alumnos de los programas de FP que responderá al segundo objetivo del proyecto. Se formarán a los educadores/formadores de FP en los conceptos básicos de inteligencia Artificial y en el uso del del kit de herramientas de formación.
Otros resultados para compartir los resultados del proyecto más allá de su asociación.
The results produced by the project are:
R1: Training Toolkit for AI for the assessment of basic digital skills of workers and learners in C-VET will respond to SG 1. Develop a Training Toolkit for AI4ALL, an AI to support the basic digital skills in C-VET self-assessment process.
R2: Self-training course on AI assisted assessment of basic digital skills of SMEs' workers and learners in C-VET paths will respond to SG 2. Train CVET educators/trainers in the basic concepts of AI and the use of the training toolkit.
Other outcomes to share the results of the project beyond your partnership.
Socios
Camera di Commercio Italiana per il Portogallo (CPIP)
Plataforma Representativa Estatal de personas con discapacidad (PREDIF)
Gestion Integree de Documents Electroniques (GIDE)
Buyuk Ortadogu Saglik Ve Egitim Vakfi (BOSEV)
Tiber Umbria Comett Education (TUCEP)
Associaçao para a Educaçao e valorizaçao da regiao de Aveiro (AEVA)